A Sunday Drive in the Fifth Dimension on Maui
at 12:21 Local Time
On Sunday, December 8, 2019 I decided to take a leisurely drive upcountry on Maui. The day was clear blue skies, a few white puffy clouds and the classic shirt-sleeve warm Maui temperature.
My friend Beverly and I had just had a delicious brunch at La Provence in Kula. This is where you can sit outside and enjoy wonderful French pastries, quiche, crepes and more. In the past, we have seen the awesome Jackson Lizard and the Passionflower or Lilikoi in bloom here.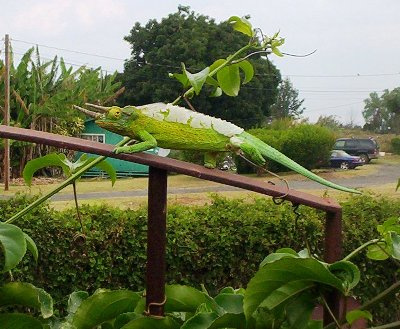 I had what my mind said were 'important' projects to get done at home. Fortunately, I went with my intuition to enjoy the delightful day before settling in on the computer.I set out with a pastry and iced tea from La Provence, planning to stop at a nice viewpoint and enjoy dessert.
I turned up Copp Road at Kula to get to Haleakala Highway to look for viewpoints up on the mountain. Just before the turn off, I saw the most gorgeous mass of blooming Aloe plants along the highway. Something had told me to bring my camera along, so I stopped and took a few pictures.
Just a short way down the road, I noticed more flowers on the other side of the road and couldn't resist taking more pictures. Have you ever seen such an enormous Jade plant, and with blooms all over?
Beverly and I had often remarked that neither one of us had seen what we thought was the common jade houseplant in bloom until we saw a good size one at the Kula Lodge and here was one 4 or 5 times the size of that one, and blooming no less! And notice the large Orb on this photo of it.
Just next to it on the steep bank was a strand of morning glory and some fairy-like flowers, I've seen only on Maui, called 'Mother of Millions.' Right above them was a pink Bougainvillea hanging over a convenient power line.
I was beginning to feel like magic was happening. Just then, I noticed the time on my car clock - it said 12:21 - and then I knew for sure I was experiencing the Fifth Dimension and getting guidance from Spirit! I immediately felt Joy and knew I was in for more magic.
Next up was a pair of blooming stalks of a plant I don't know the name of which is all over Maui. The blooming stalks are favorites of bees as the flowers bloom in sequence up the stalk and leave behind thousands of green seeds. I believe they bloom once, or certainly rarely. Their tall stalks remind me of Elders in their dignity and abundance.
Next I passed by a great statue of a running horse in someone's roadside garden. It seemed a symbol of the freedom of the Fifth Dimension manifested just for me.
As I rounded the hairpin turns going up the mountain, I found the awesome views of the entire island as well as the neighbor islands of Lanai and Kaho'olawe. https://www.hawaiilife.com/blog/rich-history-kahoolawe/
I wasn't up for a full trip to the summit, so I turned around and went down past Kula Lodge and encountered more magic - a sign I had made the right move. Another mass of blooming Aloe, this time embedded with another flowering friend - talk about oneness!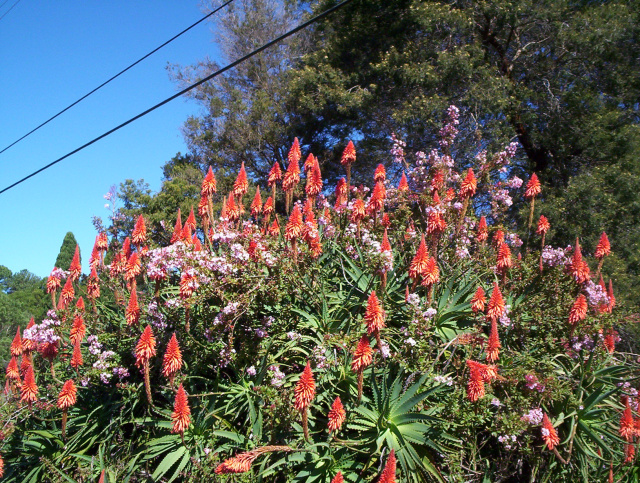 Further down, a beautiful mass of red berries or blooms was hanging off the side of the bank.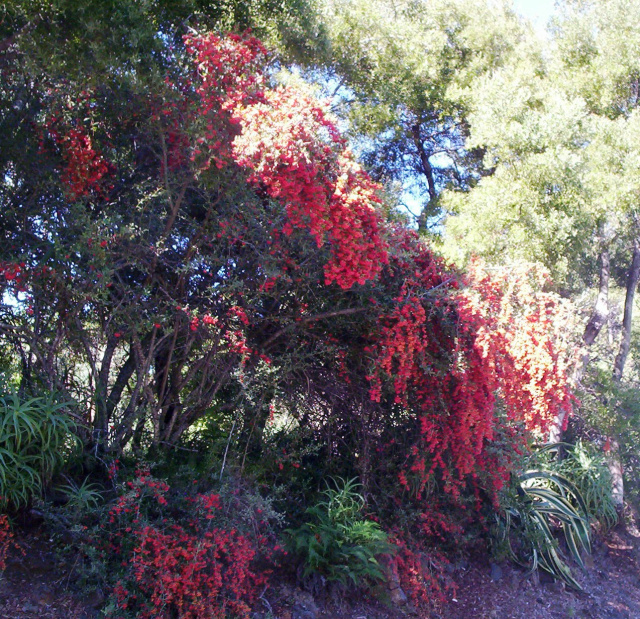 And then, blooming red pointsettias along the roadside. There are pointsettias blooming all over Maui at this most appropriate time of year.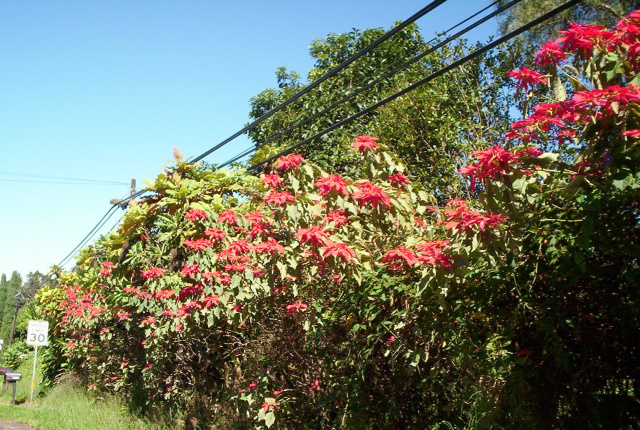 Lower down yet, a view of the ocean behind grazing horses on one of the ranches upcountry.
As I was winding my way home in Pukalani, I noticed the perfect images of the day - various blow-ups of my favorite Snoopy, Woodstock, and other Peanuts characters. Now how magical is that?
Arriving at home at Monique's, I was welcomed by the Elf and the Crystal cluster, and more flowering abundance, including banana plants.
My words and even photos cannot convey the upliftment and joy of the entire magical drive on a sunny Sunday in December at 12:21.
I see this as symbolic of this powerful 12-12-12 year, as well as the 12-21 Solstice - carrying us further into our journey in the Fifth Dimension - I am now sure!
All is truly in Divine Order and we're on track for more en-joy-ment. Aloha, Fran
PS Check out Swami Beyondananda's wise words for these times: